Emergency Dentist
Lansdale, PA
Dental pain doesn't stay on a schedule. Who knew you could break a tooth on a peanut butter and jelly sandwich? We care, we are available to you, and we can help. Call our Emergency Line at 215-855-3489

Dental pain is never convenient and at Kessler Dental we understand that you want and need answers and relief to your dental emergency in Lansdale. Dr. Kessler and Dr. Solovey strive to see patients with dental pain the same day if at all possible. We can diagnosis and often treat your dental emergency the same day with our in-house CEREC capabilities. Our compassionate team work to help you get pain relief and work towards a positive long-term outcome.
Kessler Dental maintains an emergency line that is monitored from 6:00 am until 11:00 pm seven days a week. You will hear from our team or one of our amazing doctors as soon as possible. We also respond to emails and chat messages here on our website.
"I had a new crown on my tooth by the end of the day!"

"When my tooth broke at 8pm on a Thursday, I thought I'd be attending my son's birthday party that weekend with a broken front tooth. Thanks to Kessler Dental and their wonderful staff, they got me in first thing Friday morning and had a new crown on my tooth by the end of the day. Exceptional service, especially considering I was a first-time patient at this office. Thank you Kessler Dental!" - SM
CEREC Technology for A Dental Emergency
CEREC dentistry has proven to be an amazing tool in helping many patients with dental emergencies get high quality, permanent restorations in a single visit. You can only imagine chipping or breaking a front tooth or losing a large filling the day before a big trip or major life event. It does seem that is the way dental emergencies happen, right ?
At Kessler Dental, we have the ability to fix that tooth and have you back to your busy life, often in a single two to three-hour visit. Traditional crowns take multiple processes and require outside labs, gooey impressions, and acrylic temporaries, often taking two-plus weeks to complete.
CEREC technology allows the Kessler team to prepare, scan, and mill your beautiful new tooth in a flash. Of course, not every emergency patient needs this amazing tool, and there are times where other treatment is needed, but we have you covered should the need arise.
A look at our CEREC machines that can be used if you have dental emergencies around Lansdale, PA.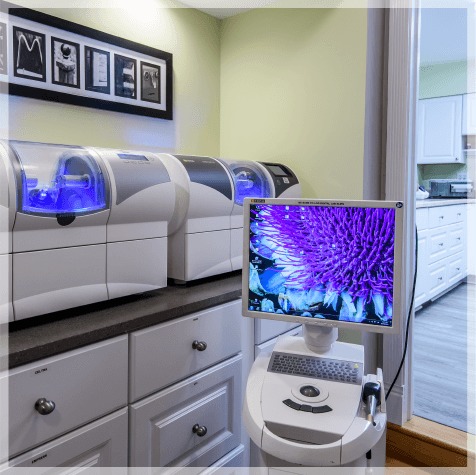 If you are a candidate for a CEREC restoration, it is just a few simple  steps:
One of our skilled technicians will scan your tooth prior to the doctor's preparations.

The doctor will prepare the tooth for the needed restoration.

We will scan again after the "prep" is complete and choose the proper shade.  

Design of your new restoration to exacting tolerances happens chairside.

Watch your restoration being milled.

Time to try on, polish, and permanently restore your tooth.   
We love to see our patients smile!
"A high level of care, talent, knowledge, and professionalism is clearly demonstrated by all of the staff here."

"I am not a big fan of going to the dentist, I'd imagine not many people are. However this is the best I've ever been to, and I've been to many! I had a front tooth emergency, and was referred to them by many people. They were able to get me in promptly.
Upon walking in, I was greeted immediately. Everyone is extremely friendly. After checking in, I barely had a chance to get my coat off and they were already taking me back in a timely fashion. I was then given a "comfort menu" with options such as blanket & pillow, lip balm, iPod/headphones, music selection, WIFI, and refreshment bar.
A high level of care, talent, knowledge, and professionalism is clearly demonstrated by all of the staff here. They have technology I've never even seen before! They took me around and showed me exactly how my crown was being made and were very open about the whole procedure - walking me through it every step of the way. I was extremely happy with my experience, and would highly...HIGHLY recommend them to anyone in the market for a highly trained, highly professional dentist!" - R. Tarves